New R&D institution is Broad Weiye Inject strong development momentum
Categories:

The news

Author:

Origin:

Time of issue:

2020-12-25

Views:

0
(Summary description)
New R&D institution is Broad Weiye Inject strong development momentum
(Summary description)
Categories:

The news

Author:

Origin:

Time of issue:

2020-12-25

Views:

0
  2020 is destined to be an extraordinary year, and December 2020 is destined to be recorded in the history of development of the great cause.
  On December 22, the Department of Science and Technology of Jilin Province issued [2020] Document No. 276, announcing the results of the 2020 Jilin Province's new R&D institutions certification. Among the 11 recognized units, Broad Weiye was on the list.
  As the main body of the new R&D institution-Jilin Boda Weiye Pharmaceutical Research Co., Ltd. with independent legal personality is located in Changchun Jingyue Development Zone and is a wholly-owned subsidiary of Jilin Boda Weiye Pharmaceutical Co., Ltd. The company has rich R&D experience, rich external technical resources, and complete R&D equipment and facilities, and can provide professional and accurate one-stop technical services and eight outsourcing services according to customer needs.
  Since its establishment, the company has won many awards: National High-tech Enterprise, Chairman Unit of Jilin Province "Chemical Pharmaceutical Innovation Strategic Development Alliance", Jilin Province Excellent Private Enterprise, Jilin Province Science and Technology Giant Enterprise, Agilent Technologies (China) Co., Ltd. Cooperative Laboratory , Jilin Province, the only chemical pharmaceutical pilot engineering center, Jilin Province Provincial Enterprise Technology Center, Jilin Province Science and Technology Enterprise, Jilin Province Top Ten Innovative Enterprises, and Yanbian University School of Pharmacy Graduate Joint Training Base.
  Currently, the company has 58 R&D personnel, 90% of whom have a bachelor degree or above, 40% or more of a master's degree or above, 8 external expert consultants, 6 Liaoyuan high-end talent workstations stationed with technical talents, and multiple project teams. It has obvious advantages in research and development. Since its establishment, it has been committed to the research and development of chemical innovative drugs and chemical generic drugs. It has successively undertaken 31 national and provincial technical research and achievement transformation projects, authorized 6 invention patents, and developed more than 40 products in total.
  As a new type of R&D institution with diversified investment entities, internationalization of construction models, marketization of operating mechanisms, modernization of management systems, sustainable development capabilities, and collaborative innovation of production, education and research, it is an open platform that can integrate talents, technology, R&D and other links , To connect the scientific research institutes of universities and capital, and finally realize the trilateral connection of scientific research, industry and capital.
  The identification of a new R&D institution that bears the burden of absorbing talents and scientific and technological innovation will surely provide a strong driving force for the future development of Boda Weiye in the "14th Five-Year Plan", and embark on the road of high-quality sustainable development in the great cause of human health .
  The future is worth looking forward to.
  Attached: Documents of Jilin Province Science and Technology Department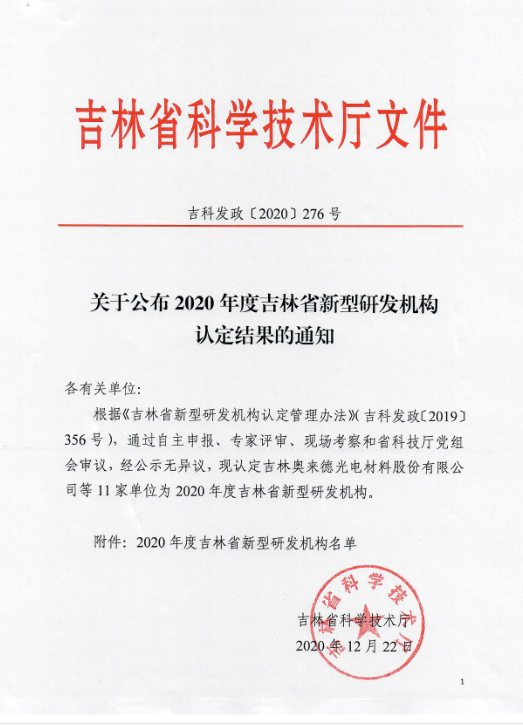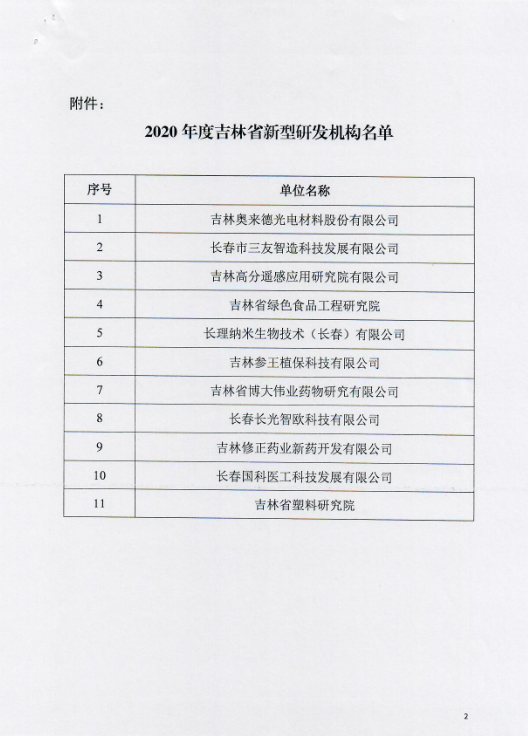 Scan the QR code to read on your phone
Jilin Province Great Great Pharmaceutical Co. LTD
Liaoyuan Production Base: No. 158 Fortune Road, Liaoyuan Economic Development Zone, Jilin Province
Tel:+86 400-688-0199
Changchun R&D Center: No. 3786 Juye Street, Jingyue Development Zone, Changchun City, Jilin Province
Tel:+86-431-81158731(Marketing center)
Tel:+86-431-81158756(Research and development center)
Beijing Office: Room 901, Building F, Kaixuan City, 170 Beiyuan Road, Chaoyang District, Beijing
Tel:+86-10-58236233
Medication consultation, feedback on medication adverse reaction, and user complaint telephone:400-688-0199
Scan and follow the official official account